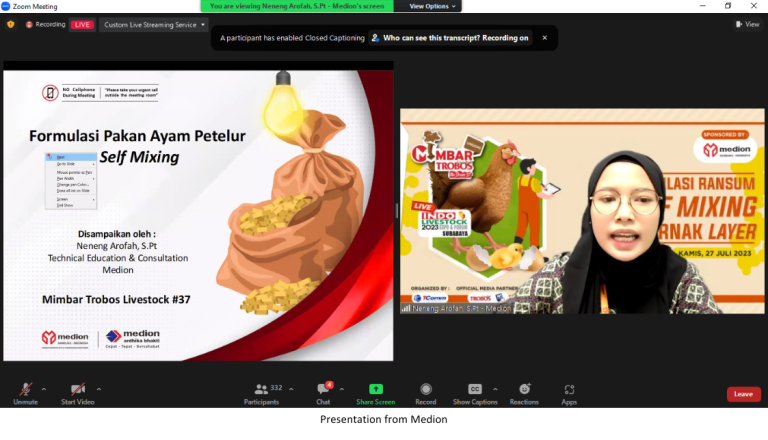 Ration is the main component that supports livestock maintenance and is even one of the success factors for livestock business. If the quality, number of giving, and feeding techniques are not considered by farmers, it will cause performance targets not to be achieved and of course also cause economic losses. Therefore, self-mixing is one way that can be used so that production results can be maximized, and this is what underlies Medion together with Trobos Magazine to provide qualified knowledge in self-mixing rations for layer breeders through the educational webinar "Mimbar Trobos 37th Edition".
This educational activity will be held on July 27th, 2023 via online (Zoom) from 10:00 am to 12:00 pm (WIB). By presenting expert speakers, namely Prof. Dr. Ir. Nahrowi Ramli M.Sc (Animal Feed Nutrition Consultant), Ir. Yahya Munirudin, Spt, MP, IPM (Technical Consultant, Animal Protein U.S Soybean Export Council, Indonesia), Prof. Dr. Muhammad Halim Natsir, S.Pt, MP. HDI. ASEAN Eng (Dean of the Faculty of Animal Husbandry, Universitas Brawijaya 2023 – 2028), and Neneng Arofah, S.Pt (Technical Education &; Consultation Medion) and raised the theme "Layer Farmer Self Mixing Ration Formulation".
In the presentation of the material, it was pointed out that choosing between self-mixing or using concentrates or complete feed, became a consideration between benefits and risks. The key to success in mixing feed, which is 4P. Starting from receiving feed ingredients, calculating formulations, mixing feed, and feeding livestock. The material presented became information as well as new insights for participants. It can be seen from the enthusiasm of more than 300 participants who attended during the session. 
In addition to discussing the formulation of self-mixing rations, at the same event Medion has also provided education on the Effectiveness of Herbs for Poultry Health, Bacterial Diseases in Poultry, and AI Alert Threatens Again. This is clear proof that Medion continues to actively provide the latest information and training in the breeding world of animal husbandry.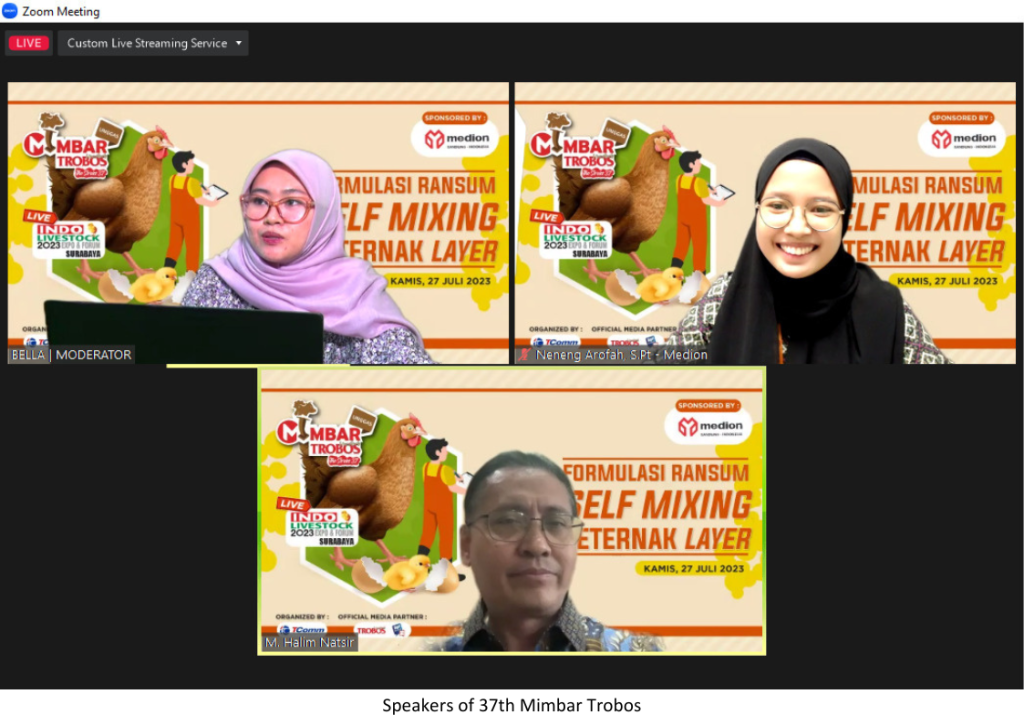 Self-mixing, Formulating Maximum and Effective Servings