After achieving ISO 17025 Certificate of Accreditation 2017 in June 2023, PT. Medion Farma Jaya is once again recognized for its commitment and continuous efforts in meeting international standards for Quality Management Systems (ISO 9001:2015) and Environmental Management System (ISO 14001:2015). Previously, Medion received the first certification of ISO 9001 in July 2007 and ISO 14001 in June 2014.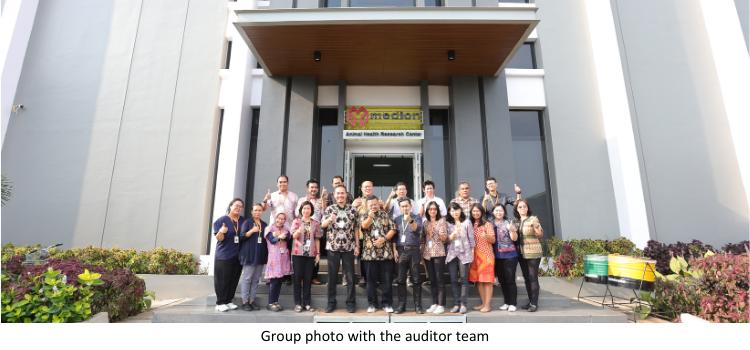 The audit took place at two locations, the Head Office and the Cimareme Plant. Both sites are part of Medion's scope of operations, particularly in the context of the design, development and manufacturing of animal health products, plastic products and laboratory testing. (Design, Development, and Manufacture of Animal Health Products, Plastic Products, and Laboratory Testing).
In the 2023 re-certification activity, for the first time Medion collaborates with a certification body that has been accredited by the United Kingdom Accreditation Service (UKAS), namely SGS as a world-renowned company in the field of certification services. Based on the audit conducted by SGS on May 22-25th, 2023, Medion was declared to have fulfilled all aspects of the assessment in maintaining the implementation of the Quality Management System and Environmental Management System. The certificate will be issued on July 19th, 2023 with certificate number ID23/00000150 for ISO 9001 and certificate number ID23/00000151 for ISO 14001.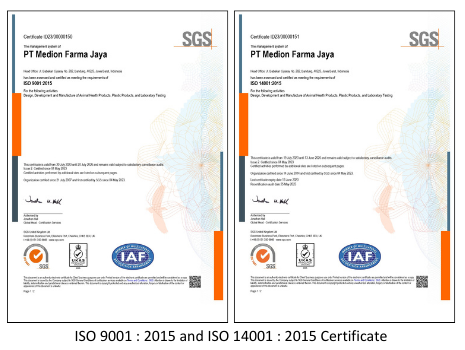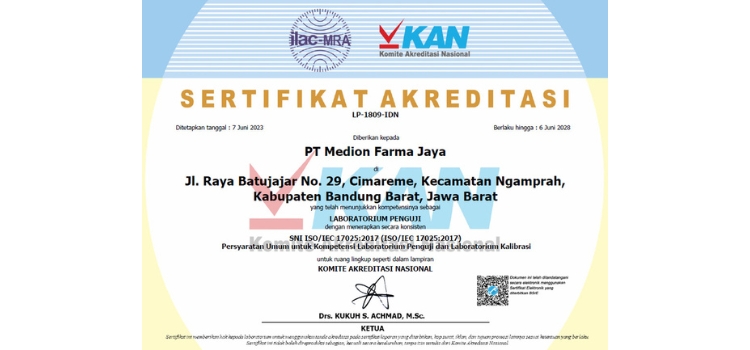 With the attainment of ISO 9001, ISO 14001 and ISO 17025 certifications, Medion has iintegrated quality, environmental, and laboratory management systems, showcasing Medion's definite commitment to producing high-quality products and services for consumer satisfaction. 
Medion Integrate ISO 9001, ISO 14001 and ISO 17025