The rapid development of chicken performance, particularly in the case of broiler chickens, has become a noteworthy phenomenon. Broiler chickens excel during their rapid growth period, which is characterized by high body weight in a relatively short time and low feed conversion. However, this advantage will have a number of adverse effects on chickens, including increased susceptibility to stress, environmental conditions, and disease, particularly during the current transition season.
As expressed by Heri Irawan, S.Pt., owner of the Farm Gemilang Karya Agri (GKA) which is located in Wangun Sabrang Village, Citalahab Village, Banjar District, Pandeglang Regency, Banten – Indonesia. In an interview, the man known as Heri described his experience in cultivating broiler livestock to Infovet.
In 2017, Heri initiated his livestock enterprise and promptly adopted a closed house cage system. He pursues his goal of becoming an independent farmer with both joy and sorrow. Although his business frequently encounters a range of challenges, he exhibits a resolute determination to confront them without fear.
Heri began the conversation by stating, "In 2019, fluctuations in the selling price of live birds were far below the cost of production, resulting in losses of up to billions of rupiah. In addition to that, the price of livestock production facilities was high and the performance was unsatisfactory."
Due to this worsening condition, the sustainability of his business was being increasingly compromised. In 2018, his livestock experienced respiratory diseases, including Chronic Respiratory Disease (CRD), which was attributed to weather fluctuations.
"The disease strikes when the temperature and humidity are high and fluctuating. Because chickens' immune systems vary, this leads to immunosuppression, which is aggravated by the secondary effect, or CRD," added Heri.
At the time, he made a concerted effort to reduce disease attacks by closely monitoring and ensuring optimal ventilation in the chicken cages to provide sufficient oxygen. Additionally, he maintained appropriate density levels and ensured the litter remained dry.
Heri, who was born in Bogor, further explained, "We have also attempted to administer antibiotics, experimenting with nearly all pharmaceutical companies; the outcomes achieved, however, differ depending on the chicken's condition."
Moving into 2019, Heri started gaining insights on managing respiratory diseases, including from Medion personnel who introduced him to RESPITORAN product.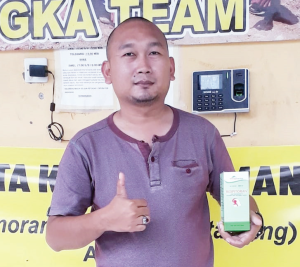 RESPITORAN contains herbs with anti-inflammatory properties, which help in reducing mucus secretion and thinning phlegm. In the event of a bacterial infection, inflammation in the respiratory tract leads to an increase in mucus production. Excessive mucus can narrow the respiratory tract, making it difficult for the chicken to breathe.
"Since used RESPITORAN which is introduced by Medion personnel, who visit the farm weekly, has resulted in a decrease in losses caused by respiratory diseases, particularly CRD. This is proven by the depletion data, which is below average." Said Heri.
After conducting a trial with RESPITORAN, Heri is now becoming more convinced of the numerous benefits of this product. "At first, it was only used as a trial after administering the IBD booster and ND vaccines. Typically, chickens may experience stress as a reaction to vaccination. Even if the management is not optimal, chickens can exhibit prolonged vocalization. I use RESPITORAN before and after vaccination, with a dosage of 0.2 ml/kg body weight. The results, thank God, were clean breathing, free from snoring, and the cost was not too high in comparison to using antibiotics," Heri stated.
He also mentioned that using RESPITORAN in the field is relatively simple. Moreover, when equipped with an automatic drinking water system, the RESPITORAN becomes even more convenient to use. The dose used is precise, accurate, and readily soluble in water.
"After the application of RESPITORAN, chickens exhibit improved health and are protected against respiratory ailments." He concluded, "Hopefully, Medion products will remain consistent in terms of quality and price, so that farmers can reap numerous benefits."
Secure Respiration, Seamless Production