As a livestock company, Medion actively contributes to the promotion of education, especially in the field of animal husbandry health. One of them is in the form of collaboration with the Department of Animal Husbandry – at Brawijaya University. Medion provides laboratory equipment in the form of hematology analyzers and other supporting equipment. A hematology analyzer is a laboratory tool that functions to analyze blood profiles. This collaboration was held on January 3rd, 2023 at Brawijaya University, Malang, East Java. The event was attended by 41 people including deans, vice deans, program directors, the head of a study program, lecturers, students, and other academics from Brawijaya University.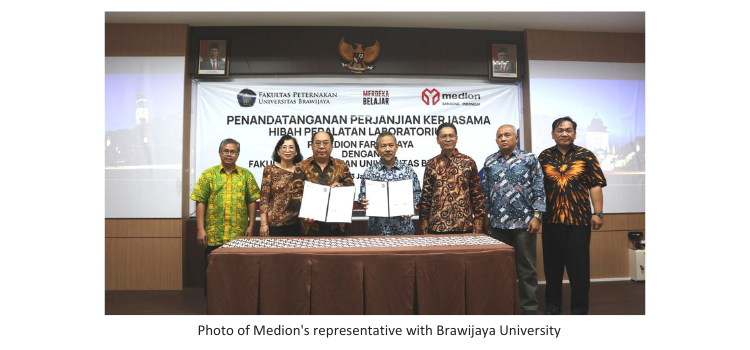 The event began with remarks from Prof. Dr. Sc. Agr. Ir. Suyadi, MS, IPU, ASEAN Eng as Dean of the Faculty of Animal Husbandry, Brawijaya University. In his remarks, he really appreciated the assistance provided by Medion, "Thank you for the grant of laboratory equipment in the form of a hematology analyzer. This equipment is very beneficial for research and practicum. Hopefully it can provide usefulness for all of us," he continued. The remarks were then continued by the Commissioner of Medion, Peter Yan, "We hope that this equipment can complement laboratory facilities so that the process and quality of practicum and research for both lecturers and students in the Brawijaya University environment can continue to improve. Be more innovative and contribute more to society ".
The event ended with a training activity on the use of laboratory equipment by vendors to the Faculty of Animal Husbandry, Brawijaya University laboratory. This collaboration is one of the tangible manifestations of Medion's commitment to improving the quality of education in the country and is in line with the Medion Peduli Pendidikan program. Medion hopes that this good cooperation can provide tangible benefits for the world of education and the surrounding community.
Medion Grants Laboratory Equipment to Brawijaya University