The Ministry of Agriculture and the World Organization for Animal Health (WOAH), together with the Indonesian poultry and veterinary medicine industry, have declared five concrete steps to tackle antimicrobial resistance (AMR) specifically in Indonesia. This declaration was held on November 22nd, 2022, coinciding with the World Antimicrobial Awareness Week, November 18th – 24th, 2022. The five steps are described as follows:
1. Commit to using antibiotics with the right type of sage and dosage accordingly Veterinarian Prescription and Assistance Education Program
2. Improve biosecurity, vaccination, and preventive measures to reduce infection rates
3. Reduce the use of antimicrobials on farms and implement good waste management
4. Invest in the use of vaccines, innovative antimicrobials, and new technologies to reduce antimicrobial resistance rates, and
5. Collaboration between industry and researchers/academics on research, data, and information to educe antimicrobial resistance rates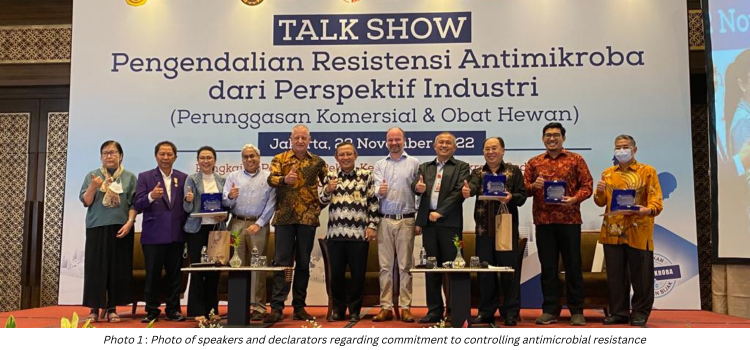 Medion was one of six representatives company from the poultry and animal health industry who co-signed the declaration. At this event, Peter Yan as a representative of Medion had the opportunity to express his views, roles, and various concrete actions of the company to control AMR. Some of them manufacture high-quality medicines according to CPOHB standards, ensure the qualification of field staff to diagnose diseases, improve the skills of diagnostic laboratories in bacteriological testing services, including antimicrobial sensitivity tests, actively educating farmers & the public related to the risk of AMR, developing products in controlling bacterial infections, both vaccines and alternative antibiotic substitutes, and conducting collaborative studies to monitor bacterial resistance in farms and develop a variety of approaches to controlling antimicrobial use and resistance.
Through this joint declaration, it is hoped that more parties will be inspired to get involved and contribute to overcoming the problem of antimicrobial resistance in Indonesia.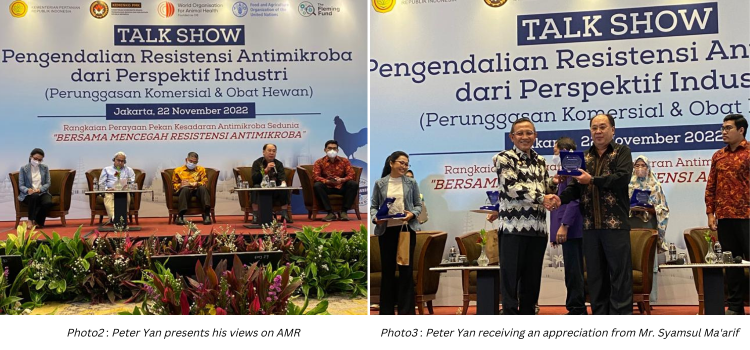 Medion's Commitment In The Joint Declaration Control of Antimicrobial Resistance in Indonesia