On June 14th, 2023, Medion attended the 2023 Tax Gathering Event hosted by Bandung Madhya Tax Office (KPP) at Trans Hotel, Bandung. This event is a form of state appreciation to companies, both state-owned and private companies that have obediently contributed to tax reporting and payment. Obedience in paying taxes is considered to be one form of supporting real nation and state development.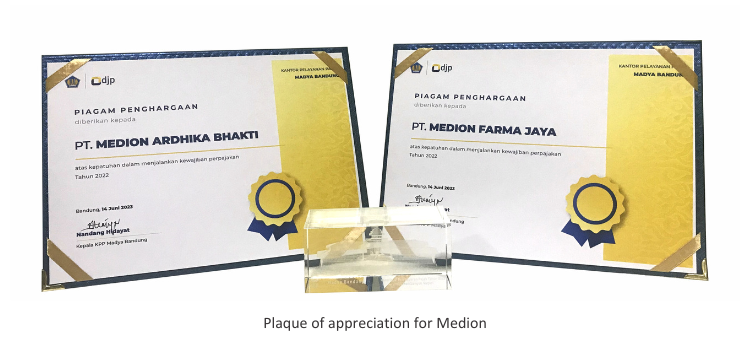 The ceremony was attended by 72 taxpayers, of whom 10 were recognized as diligent taxpayers. PT Medion Farma Jaya and PT Medion Ardhika Bhakti became 2 of the companies that received the award. The award was given by the Head of the Regional Office of the Directorate General of Taxes (Regional Office of DGT) West Java I Erna Sulistyowati and Head of KPP Madya Bandung Nandang Hidayat.
The success in achieving this award is a proof of Medion's commitment in creating added value for all stakeholders, including the state. Compliance with tax payment obligations is a concrete action taken by Medion to support government initiatives programs.
Medion Wins Taxpayer Award Again