Since its first detection back in August 2003, the poultry industry in Indonesia has not been freed from Avian Influenza Virus (AIV). For almost 20 years of its dissemination, AIV has continuously evolved and resulted in new variants. This phenomenon certainly becomes a challenge and concern for all stakeholders of the poultry industry especially those who deal with disease control measures such as biosecurity and vaccination program.
Due to its significant economic burden, AIV circulation needs to be monitored and detected as soon as possible. Medion as one of the leading veterinary vaccine manufacturers in Indonesia is committed to monitoring AIV evolution through a surveillance program. According to WOAH (2018), surveillance is the systematic, ongoing collection, collation, and analysis of information related to animal health, and the timely dissemination of information to stakeholders, so that effective action can be taken.
Medion Surveillance Program consists of active and passive implementation. Active surveillance is conducted throughout the year and the specimen collected is environmental swab samples of poultry pen and poultry in high-risk areas, such as in commercial farms, live-bird markets, and suspected location of outbreak cases. Samples were then identified using molecular biology methods such as Polymerase Chain Reaction (PCR) and sequencing. Additionally, passive surveillance is conducted through serology and disease incidence monitoring for the whole year in most locations of Indonesia.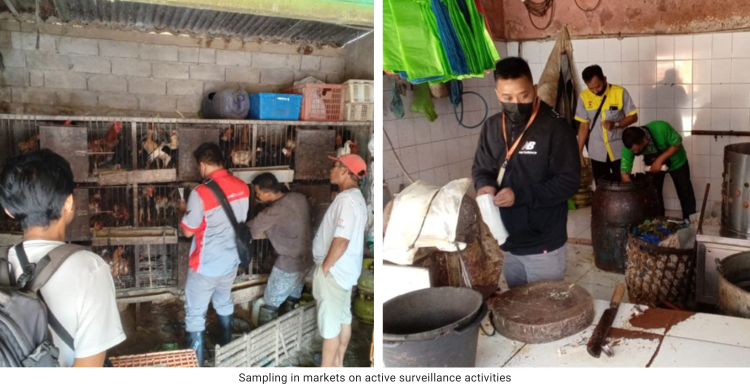 The surveillance program has effectively served information on pathogen circulation and it hopes to raise awareness of the disease prevention program from all stakeholders. One of the success stories of the Surveillance program was the discovery of AI H5N1 clade 2.3.4.4b in South Kalimantan province in April 2022. Medion is responsible for actively participating in the national poultry health program, and this finding has been announced at Influenza Virus Monitoring (IVM) forum held in Yogyakarta on November 14th-16th, 2022. This discovery is believed to be the first in Indonesia, and the government and all industrial sectors should raise their awareness of this particular disease, considering its pathogenicity and potential to become a zoonotic disease.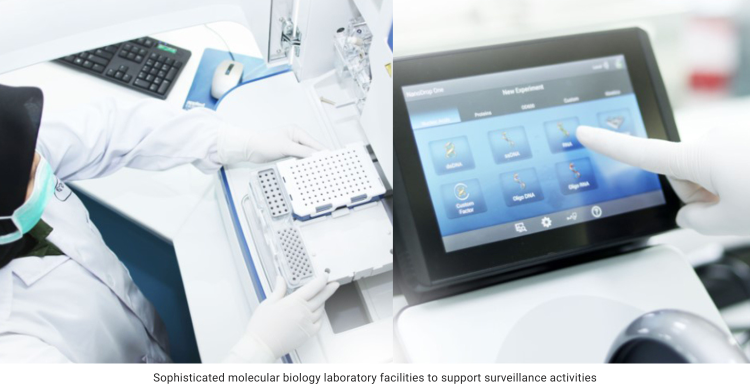 The finding of AI H5N1 clade 2.3.4.4b is also adding a long history of AI H5N1 circulation in Indonesia. At its first introduction back in 2003, AI H5N1 in Indonesia was classified as clade 2.1 and continued to become an endemic disease. The mutation then occurred in 2012 when the virus from clade 2.3 was isolated from ducks and backyard chickens. Since then, this clade has become the predominant clade and is widely circulating in Indonesia until the detection of AI H5N1 clade 2.3.4.4b in South Kalimantan province.
A surveillance program is a form of Medion's commitment to comprehensively and holistically serve, develop, and introduce new products, services, solutions, distribution chains, and new supporting systems in all of its business sectors. Medion is always dedicated to its vision to provide added values and optimal contributions to all stakeholders.
Avian Influenza Virus Mutation was Detected Through Surveillance