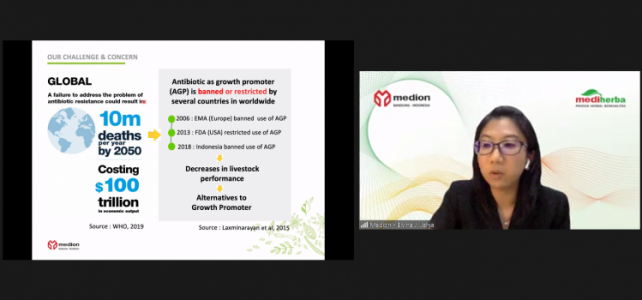 Medion continues to innovate to meet the needs of farmers, including the development of herbal products under the Mediherba umbrella. Not only producing quality products, but Medion is also committed to providing education. This time, Medion participated in an International conference held online from September 30th to October 1st, 2021. The conference was titled '3rd Edition Of Euro Global Conference on Food Science and Technology,' with the theme 'Foreground for Advanced Researches in Food Science and Technology.'
The purpose of the conference was to transfer knowledge from research to the industry and to transform food safety for a safe and healthy future. Elvina Jahja, the Director of Animal Health at PT Medion Farma Jaya, participated as a speaker, presenting her material to participants who were academics, professionals, entrepreneurs, industrialists, and engineers from twenty countries.
In this event, Elvina presented the latest research results of Medion's herbal products that have the potential to optimize broiler FCR and produce good carcass quality. The topic of the presentation was 'Performance and Carcass Quality of Broiler Supplemented with Curcuma Longa and Morinda Citrifolia Extracts.'
This is essential considering the current global challenges with a growing population, leading to an increased demand for animal protein. Furthermore, the emerging issue of the withdrawal of AGPs (Antibiotic Growth Promoters) worldwide is causing a decline in livestock performance. As a result, there's a need for alternative products that can substitute for AGPs. It is hoped that these researched herbs can be used for sustainable production.
Medion, as an innovative company focused on quality products and competing internationally, has successfully developed various herbal products, including Ammotrol, Kumavit, Imustim, Gingertol, Fithera, Super Strong, Red Power, Mastigrin, Respitoran, Heprofit, and Fasbro. Medion is also committed to continuous innovation and making significant contributions to the livestock industry."
Medion's Herbal Product Innovations Presented at an International Conference