Medion, as an exporter of veterinary drugs, poultry vaccines, and livestock equipment, was invited to attend the export release at the Merdeka Export Program. Melina Jonas, Medion's Animal Health Director, was present at the InterContinental Bali Resort Hotel, Jimbaran as a company representative. In the event, Medion received an award as the Best Export Activity Partner from the Ministry of Agriculture. The award was handed over directly by the Minister of Agriculture of the Republic of Indonesia, Dr. H. Syahrul Yasin Limpo, S.H, M.H.

The Merdeka Export Program initiated by the Ministry of Agriculture officially opened, on August 14, 2021. The program is being held at 17 main airports and seaports spread across 17 provinces in Indonesia. President Joko Widodo symbolically carried out the release online from the State Palace, Bogor.
In his remarks, President Jokowi said that agriculture is a formidable sector because it is one of the sectors that has been able to survive amid the Covid-19 pandemic. And according to the Director General of PKH, Nasrullah, in this activity, the contribution of livestock and animal health commodities occupies second place after plantation commodities.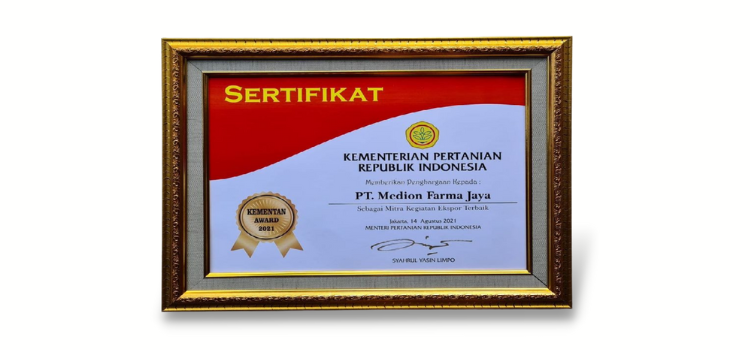 Medion, which is celebrating its 45th birthday, has been exporting to more than 20 countries in Asia and Africa for 23 years. Apart from exporting its products, Medion has already become a leader in the domestic veterinary drug industry. Its products are spread throughout Indonesia and have become a mainstay of breeders in Indonesia. Medion continues to be committed to advancing the Indonesian livestock industry through its various contributions, including exporting.
Medion, The Best Export Activities Partner