The success parameter of egg production depends on its quantity and egg quality. If egg production is high but the quality is low, breeders will face problem because eggs with poor quality will not sell well in the market. Likewise, if the egg quality is good but the production rate is low, breeders will suffer losses.
In general, there are several factors that contribute to decreased egg production, both infectious and noninfectious. These two factors are linked and have a greater impact. I Ketut Mante, the owner of Sumber Karya Kelp. Farm KK in Pasedahan Village, Manggis District, Karangasem Regency, Bali, felt this way.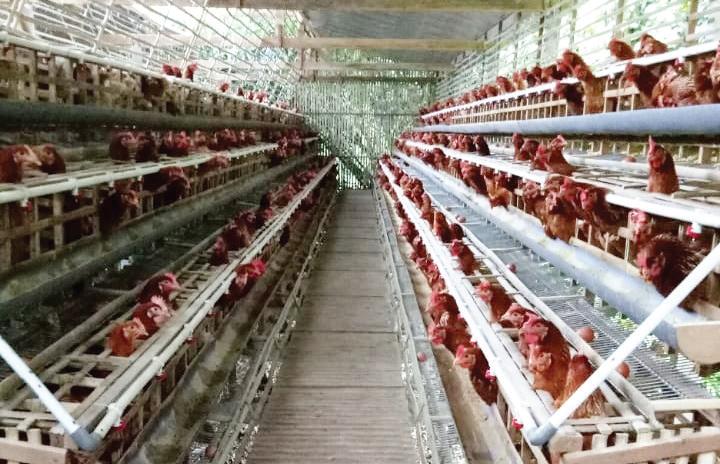 This man, who has worked in layer industry for decades, spoke about his experience in reducing the rate of disease in order to continue making a profit. "If the price of feed and DOC is still low, the chickens are healthy, and the selling price is good, of course you will make a profit, and your life will be secure," Ketut said as he began the conversation with Infovet.
Even though, breeders must stay cautious and responsive in facing disease attacks, which are certain to cause significant losses. That unwelcomed "guest" repeatedly attacked Ketut's farm.
"We often encounter diseases that attack respiratory tract, such as CRD (Chronic Respiratory Disease) and digestive tract caused by E. coli. Almost all breeders in this area complain about these diseases," said the man, who now has tens of thousands of laying hens.
He used to believe that when his chickens became ill, they were being infected with Infectious Laryngo Tracheitis (ILT). He lost tens of chickens in a single day. Ketut's losses amounted to millions of rupiah due to morbidity of up to 2,000 heads, at least 200 heads of which died gradually.
"The chickens are still eating, but they are losing weight. I gave them medicine, but they eventually died. As a result of the feed and medicine losses, chicken rearing became less efficient," he explained.
After further investigation, it was found that one of root cause of the problem is water quality. The water he uses originates from a spring on the edge of a river close to a cliff, which he runs down and collects in a reservoir before sucking it up the tower to flow into the cage. Ketut's chicken is frequently troublesome due to the high E. coli content in the water.
"In my opinion, the disease caused by E. coli is difficult to treat. The mortality rate is continue to increase. Meanwhile, we continue to give feed and treatment, thus we lose a lot of money. Whenever a DOC arrives, we prepare by using disinfectants, medicine, and other methods, but the results are not optimal," explained Ketut.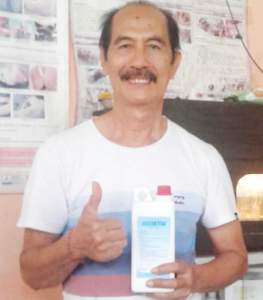 Eventually, Medion's personnel recommended ASORTIN. ASORTIN is an organic acid that can maintain the pH of digestive tract and reduce pathogenic bacteria infection. It is effective to optimize FCR and increase the number of beneficial bacteria in digestive tract.
"Initially I tried to use it myself for two periods and the results were excellent with zero mortality. Then I recommend ASORTIN to other breeders, and they all had the same result. In the end, many people use it," he stated.
Ketut has been using ASORTIN for over a year, and his chickens is now free of harmful disease. "After using ASORTIN, the chickens are healthier with ideal body weight and optimal production. I'm not as worried as I was before when every time I came to the cage, I found dead chicken. The quality of ASORTIN is excellent," stated Ketut.
He expects that the quality of ASORTIN would be maintained so that breeders have reliable protection against disease. "The key thing is that the quality be controlled and maintained, so we avoid losses due to sickness," he added.
Prevent Disease Occurrence to Keep Earning Profit