Not only on a national scale, Medion also regularly provides education on a global scale. One of them is through a series of seminar programs in Pakistan. The activities started from September 11 to 20, 2023, and took place in 8 cities, namely Hyderabad, Karachi, Sahiwal, Multan, Rahim Yar Khan, Sargodha, Gujranwala, and Lahore.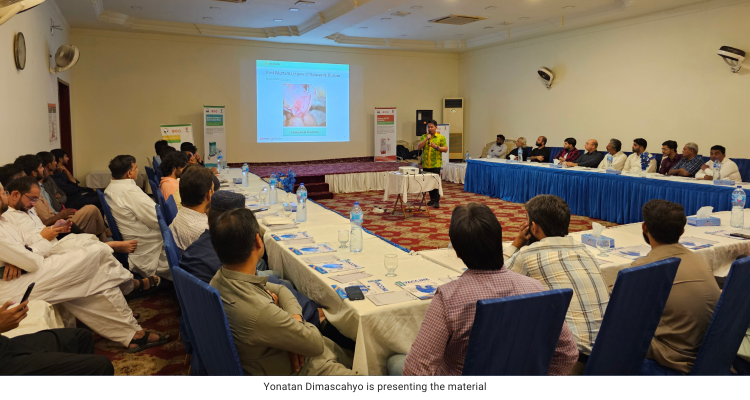 The seminar titled "The Update of ND and Gumboro in Asia" was attended by 361 participants from various backgrounds, such as educational institutions, prescribers, and distributors. In his presentation, Dr. Yonathan Dimascahyo Budianto DVM, MSc, MM, MBA as Medion's Technical Evaluation & Consultant explained how to avoid and overcome ND and Gumboro diseases in Asia. One of them is by using Medion's superior products, namely the Medivac ND G7 and Medivac Gumboro A series.
Medivac ND G7 is Medion's flagship vaccine that protects poultry from ND (Newcastle Disease). Medivac Gumboro A is a freeze-dried active vaccine that can prevent Gumboro with maximum protection. For more than 30 years Medivac has been present as a solution to protect livestock from various diseases. Medivac now has a complete range of product variants and is available in various types of packaging sizes so it can reach all levels of the market. Many farmers in Pakistan have used Medion vaccines because the results are very satisfying.
Participants were very enthusiastic about the program organized by Medion. The current and highly relevant topics were very helpful for the participants to overcome livestock problems in the field. Implementing this seminar is a form of Medion's commitment to providing quality and complete products, supported by applicable education and excellent service.
Medion Holds ND & Gumboro Control Seminar in Pakistan